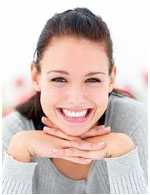 If you have the desire to straighten out your teeth but don't want to wear unsightly metal braces – consider Invisalign. With Invisalign, or clear aligners, adults can have that straight, healthy, beautiful smile without the hassle or embarrassment of metal braces. As a certified Invisalign provider, Dr. Lanzillotti provides our patients with this ground-breaking orthodontic technology.
Metal-free Invisalign braces involve acrylic trays that gradually reposition your teeth. Initial impressions will be taken and with the Invisalign software, a plan to move your teeth in increments over time will be created. The information will be sent to an Invisalign lab where your aligners are created. Simply wear the aligners as directed, switching out aligners about every two weeks, and in virtually no time, you can enjoy a more attractive smile.
The benefits of Invisalign are as follows:
Clear retainers– When we say "invisible" we mean it. Even upon close inspection, most people won't notice you're wearing the aligners.
Removable – Take the aligners out to eat, brush, and floss. You can even remove them for special occasions.
Fast – Treatment with Invisalign averages 12 to 18 months, which is about half the time of traditional braces.
Affordable – The cost of Invisalign is typically about the same as regular braces, and most insurance policies offer partial coverage.
If you have any questions, or are interested in perfecting your smile, please give us a call for a free consultation. If you are a patient of record, and you refer a friend or family member, we will send you a $100 check when they begin their Invisalign treatment.
So don't put it off! Ask how you can make your smile something to be proud of today!